British Columbia's Lower Mainland is a perfect blend of urban sophistication and natural beauty. It's not just a place to live; it's a lifestyle. The Lower Mainland boasts one of Canada's mildest climates, world-class cultural attractions, and a diverse natural landscape in a dynamic metropolitan area – making it a sought-after place to live.
This year's BC Children's Hospital Dream Lottery offers five Grand Prize options in the stunning Lower Mainland, each located in unique neighbourhoods. Not only do you have the chance to win an incredible multi-million dollar home package, but you can also make your dream lifestyle a reality.
Get your Dream Lottery tickets now and explore these prize home communities in the Lower Mainland to find your favourite.
South Surrey's Coastal Charm
Step into the world of refined coastal living in the charming neighbourhood of Ocean Park. Tucked away from the city's hustle and bustle, yet conveniently close to the US border, this South Surrey Grand Prize home is a true embodiment of suburban luxury. The Ocean Park prize home is just a short drive to Crescent Beach, a perfect spot for water activities and year-round beach walks. With beautiful parks, golf-courses and nearby amenities, it's the perfect opportunity to embrace a comfortable and serene life close to the coast.
Limitless Potential in Vancouver
Live in one of the world's most desirable cities! Discover Vancouver's coveted Westside neighbourhood, close to Queen Elizabeth Park, with this incredible two-home Grand Prize package featuring a Lilibet townhouse and a condo. This tranquil pocket of the city is close to Vancouver's most vibrant neighbourhoods and attractions, including downtown, the Cambie Corridor, Main Street, Oakridge Centre and False Creek Seawall. Explore tree-lined streets that lead to parks, schools, shopping, restaurants, and experience firsthand why Vancouver is renowned for its unbeatable lifestyle and breathtaking surroundings.
Gateway to North Shore Adventures
The APEX Grand Prize condo in North Vancouver seamlessly blends outdoor adventure with the comforts of urban life. This isn't just about winning a home; it's about choosing a hub where a one-of-a-kind lifestyle is yours to embrace. North Vancouver offers quick access to the beautiful city of Vancouver and North Shore's breathtaking landscapes, including skiing down Grouse Mountain's slopes, hiking through Lynn Canyon's serene trails, or exploring the oceanfront. Combined with a thriving cultural scene and diverse dining options, your options are endless.
Urban Sophistication in Oakridge
Experience unmatched urban living with the COCO Oakridge Grand Prize sub-penthouse – situated within the dynamic Oakridge neighbourhood, in the heart of Vancouver. Close to the sprawling 52-hectare Queen Elizabeth Park, this luxury prize home is surrounded by leafy avenues. It's also adjacent to a burgeoning development featuring shops, boutiques, and restaurants. With the added convenience of the Skytrain just a short walk away, you'll effortlessly connect to downtown, the Cambie Corridor, Richmond, and the airport. Embrace the ease of city living while always having a perfect home to come back to.
Community and Comfort in Langley
The Crofton Grand Prize townhome in Langley presents a charming retreat in the heart of a vibrant community, in close proximity to Vancouver and the US border. Embrace the spirit of Langley, a place of picturesque landscapes and community warmth. Spend leisurely weekends exploring local farm markets and wineries, or relax in the serenity of nearby parks and recreation areas. Whether you're putting down roots or raising a family, Langley offers a sense of community and a lifestyle of comfort.
The Lower Mainland Awaits
Whether it's living in desirable Vancouver, adventuring on the North Shore, or enjoying the charm in South Surrey, urban sophistication in Oakridge, or suburban comforts of Langley, these Grand Prize options go beyond homes – they offer a lifestyle you've always wanted. Secure your tickets now to win the ultimate Lower Mainland home package of your dreams!
---
Your Win, Your Dream Lifestyle
This year's Dream Lottery has more Grand Prize packages to win and choose from with 10 multi-million dollar Grand Prize options. If the Lower Mainland doesn't pique your interest, we've got you covered with exceptional home packages in the Okanagan and Vancouver Island. Win and choose the idyllic lifestyle you've always dreamed of – with lake views in Lake Country and Kelowna, or live close to the ocean in Sooke or Courtenay.
Or, you can opt for a whopping $2.3 million tax-free cash prize and fulfil your own wildest dreams. Seize your future and get your Dream Lottery tickets today!
Experience the best of urban living with the North Vancouver Grand Prize home. Picture skiing in the morning, paddleboarding in the afternoon, and returning in the evening to this incredible luxury home.
"This stunning North Shore condo is over 1,000 sq. ft., has two bedrooms, two baths, plus an EV-ready parking spot and a storage locker," says BC Children's Hospital spokesperson Erin Cebula. "The living spaces are open and airy with fine European cabinetry, and in the kitchen you'll find modern quartz countertops and state-of-the-art appliances."
"Overheight ceilings plus dramatic floor-to-ceiling windows give you incredible views of Burrard Inlet and the North Shore mountains."
Experience the beauty of the North Vancouver Grand Prize home package in the video tour below:
The Best of Urban Living
North Vancouver is a city like no other, providing an urban lifestyle infused with outdoor adventure. Nearby Lynn Canyon provides remarkable hiking, biking, and walking trails, along with ample paddle boarding and skiing opportunities just a short drive away.  
As a resident at Apex, you'll also enjoy access top-of-the-line amenities at the Denna Club – a brand new 14,000 sq. ft. facility, complete with a 25-metre infinity edge pool, steam room, hot tub, sauna, fitness room, a party lounge, and more.
You're also only a Lions Gate Bridge away from one of the world's most exciting and vibrant cities! The sights, lights, and charms of downtown Vancouver are a short trip away – as are some of this year's other Grand Prize homes.
A Lifetime of Comfort
This $2.5 million Grand Prize home package includes everything you need to live a life of luxury and enjoy the best North Vancouver has to offer: $50,000 cash for furniture, 2023 Tesla Model Y Long Range, gas and groceries for a year, and $875,000 tax-free cash.
Don't miss the chance to make this beautiful North Vancouver condo your new home. Purchase your Dream Lottery tickets today – your future awaits!
---
Find Your Perfect City Retreat
If urban living is your style, you'll also love the COCO Oakridge Grand Prize home. This luxury sub-penthouse features 1600 sq. ft. of pure elegance. Step out onto the incredible patio and soak in the views, all while being close to Vancouver's stunning Queen Elizabeth Park. Check out the video tour of this $2.7 million prize package and see the magic for yourself.
Choose Your Lifestyle
With 10 incredible multi-million dollar Grand Prize options to choose from, the possibilities are endless. Picture yourself in one of our luxurious home packages, located in stunning destinations across beautiful British Columbia, including South Surrey, Kelowna, Courtenay, Lake Country, Sooke, Vancouver, and Langley. Or, you can take home a whopping $2.3 million tax-free cash and become an instant multi-millionaire!
Make your dreams a reality by becoming a homeowner or having tons of cash. Get your tickets now and seize the opportunity of a lifetime!
Welcome to COCO Oakridge, located in the heart of Vancouver's newly-designed and flourishing Oakridge area. With its refined interiors and state-of-the-art design, this Grand Prize home is perfect for those seeking the finest in urban living.
"This stunning sub-penthouse is over 1600 sq. ft. of pure luxury," says BC Children's Hospital Lottery spokesperson Erin Cebula. "Extensive windows provide optimum light and nine-foot ceilings add to the spacious feeling throughout."
Join Erin on a home tour that will leave you ready to move into this prize home!
City-Living in Pure Luxury
The COCO Oakridge Grand Prize home offers three bedrooms, three bathrooms, and a versatile flex space, providing plenty of room. The primary bedroom is a true oasis of comfort, but it's the luxurious marble ensuite that steals the show. Every detail has been carefully curated to create a serene and relaxing space where you can escape the stresses of everyday life.
The heart of the home is the award-winning Scavolini kitchen, featuring modern design elements with quartz countertops and a functional island. Whether you're an amateur chef or just like to cook for your loved ones, this kitchen will be a joy to be in.
Step out onto the prize home's 634 sq. ft. deck and you'll be greeted with sunsets that will take your breath away. It's the perfect spot to unwind and enjoy the beauty of Vancouver.
Move-In Ready
Worth over $2.7 million, this Grand Prize package also includes $50,000 worth of indoor and outdoor furniture and accessories, and gas and groceries for an entire year. You'll have everything you need get started in your dream home!
Don't miss out on your chance to win this extraordinary prize home and change your life forever. Purchase your tickets today!
---
Two-Homes, Endless Possibilities
This year's Dream Lottery offers another incredible Grand Prize home package in Vancouver – the Lilibet Condo AND Townhome. That's right –  this prize package includes not one but TWO homes, nestled near the beautiful Queen Elizabeth Park. You can choose to live in one while sharing the other with family or using it as a source of investment income. The possibilities are endless!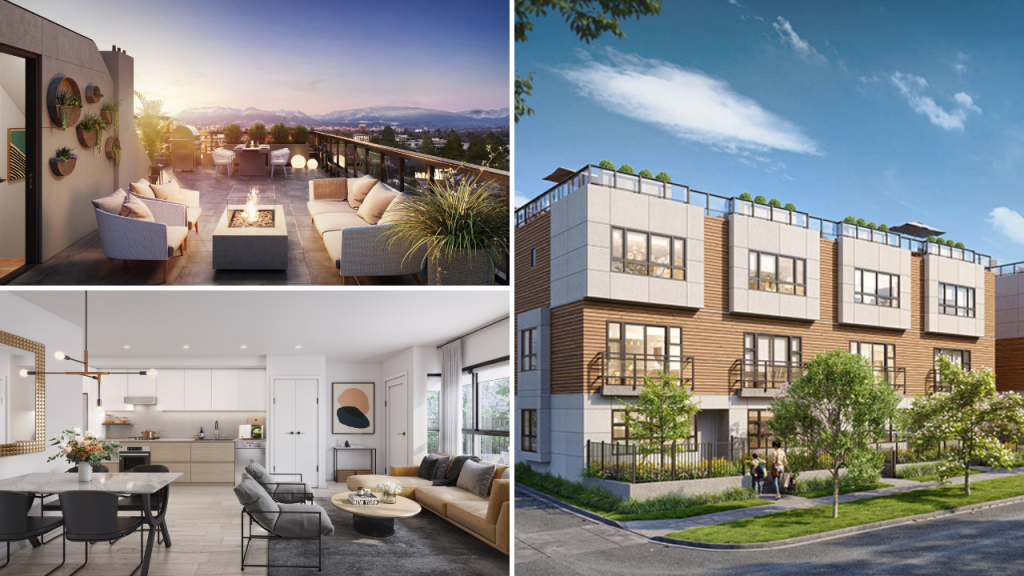 Win and Choose: 10 Grand Prize Options
There's more to choose in this year's Dream Lottery with 10 multi-million dollar Grand Prize options. If Vancouver isn't for you, win and choose from other incredible home packages in Sooke, South Surrey, Kelowna, Courtenay, Lake Country, Langley and North Vancouver. Or, take $2.3 million tax-free cash –  the choice is yours.
Don't miss out on your chance to win millions –  get your tickets today!