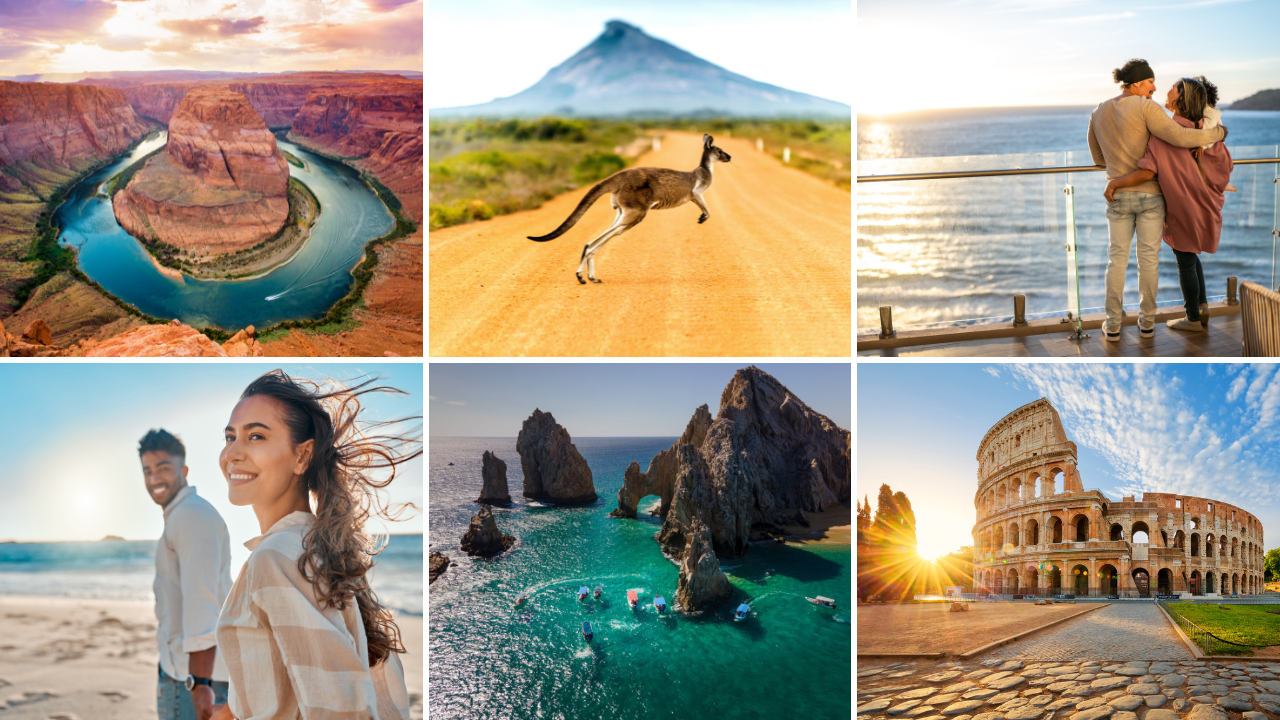 Dream Destinations: Top 6 Spots to Explore Post-Win
Secure your BC Children's Hospital Dream Lottery ticket early and get ready for an unforgettable adventure! With each ticket, you'll be one step closer to turning your vacation dreams into reality.
Every early ticket purchase automatically enters you to win thousands in travel – including a prize package of five $25,000 luxury worldwide trips in our Early Bird draw. Imagine the possibilities … Where will your travel prize take you?
You, our amazing supporters and ticket-buyers, recently shared your dream travel destinations, and we're thrilled to reveal the top six places that have captured your hearts. Read on to discover the incredible destinations that might just become your next getaway.
1. Europe: Journey Through Time
At the top of the list sits the timeless allure of Europe. Europe has always been a popular destination for travelers and it's not hard to see why. The rich and diverse cultural heritages of Italy, France, Spain, and Germany offer unique and unforgettable experiences. Whether you're exploring famous cities with historical landmarks, indulging in delicious local cuisine, or simply enjoying a glass of wine in the countryside, there is a place for everyone in Europe.
2. Australia & New Zealand: Nature at its Best
For those looking to explore the natural wonders of the world, it doesn't get much better than Australia and New Zealand. The beauty of these countries are unmatched – spanning from the stunning beaches of New Zealand's North Island to the rugged outback of Australia. The Great Barrier Reef, Sydney Opera House, and Milford Sound are just a few of the must-see attractions that draw travelers to these breathtaking destinations. It's time to experience the wonder down under!
3. Mexico and the Caribbean: A Paradise of the Sun and Sand
When it comes to beach destinations, Mexico and the Caribbean are the top choices for those looking for sandy beaches, warm weather, and relaxation. Choose to explore the crystal-clear waters of Cancun, unwind on the beaches of the Dominican Republic, or immerse yourself in Jamaica's vibrant culture. Each of these destinations offer the perfect combination of relaxation and adventure. Picture yourself sipping on a tropical drink, soaking up the sun on the beach, and indulging in the local cuisine… Don't miss the chance to escape to paradise.
4. Canada: Explore Without Borders
With countless destinations to discover right in our own backyard, Canada offers a wealth of awe-inspiring landscapes and captivating experiences. From the majestic Rocky Mountains and mesmerizing Northern Lights, to the enchanting cities of the Maritimes and the vibrant cultural hub of Montreal, you'll easily find your dream vacation within our borders. Embark on scenic hikes, explore world-class cities, or tour historic landmarks – Canada truly has it all!
5: Cruises: A World of Adventure
If you're seeking a more relaxed approach to travel, a cruise might be just the ticket. With sailings that explore the beautiful beaches of the Caribbean, explore the ancient ruins in the Mediterranean, or travel through the glaciers in Alaska, there's a cruise for everyone. Plus, with endless onboard entertainment, delicious food, and breathtaking ocean views, a cruise is the perfect way to unwind and recharge.
6. United States: Iconic Landmarks to Natural Wonders
From the bright lights of Las Vegas to beaches of Miami, the United States offers a wealth of exciting travel destinations. Whether you're looking to explore the great outdoors in Arizona or take in a New York Broadway show, there's something for the whole family. And, with its rich history, diverse culture, and world-class attractions, the US is an ideal destination for travelers of all ages.
---
Now that you have your wanderlust inspiration, it's time to start planning your own dream vacation! With your ticket, you'll be entered into Dream Lottery's Summer Bonus, Fall Bonus, Early Bird, and extra prize draws to win travel prizes worth thousands of dollars. From exploring the vibrant cities of Europe to relaxing on Mexico's beautiful beaches, we have you covered.
But that's not all. With Dream Lottery, there are even more chances to win. By purchasing a ticket today, you'll automatically be entered to win the multi-million dollar Grand Prize. Win and choose from 10 incredible options, including $2.3 million in tax-free cash.
Don't wait any longer. Purchase your ticket today and start packing your bags for the adventure of a lifetime!