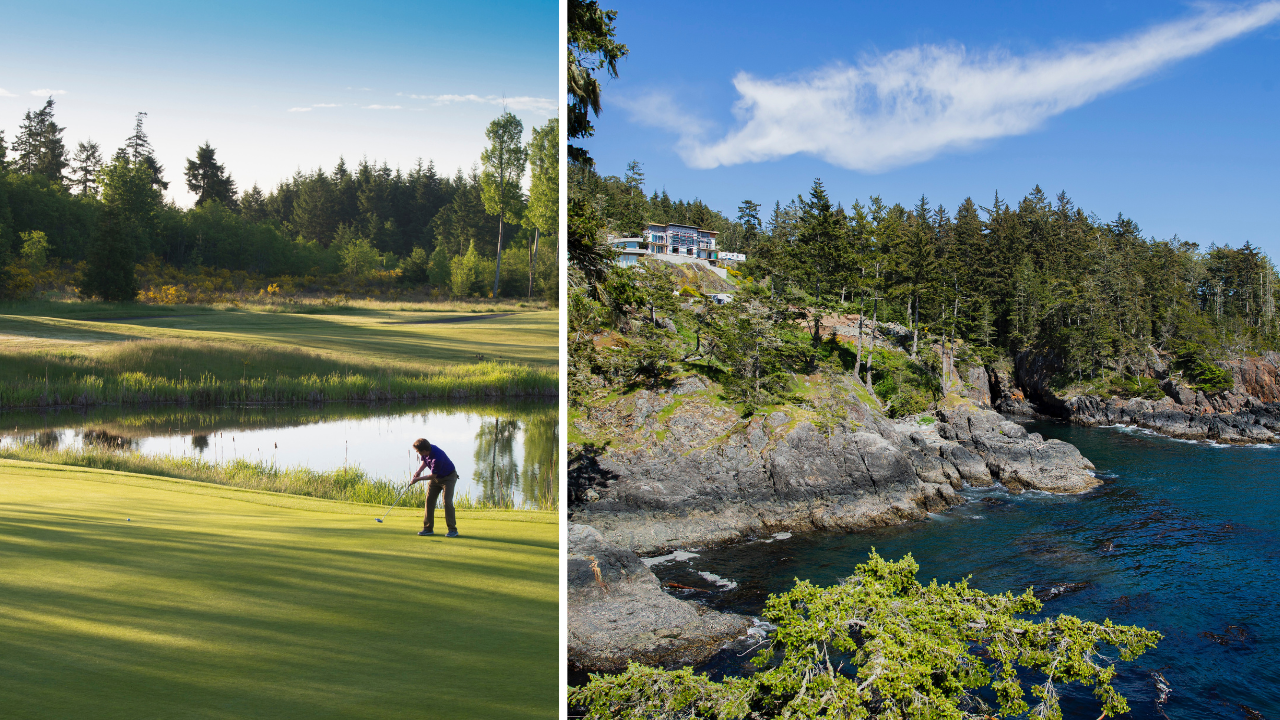 Choose Your Lifestyle: Vancouver Island
When it comes to imagining your ideal lifestyle, few places can compete with the allure of Vancouver Island. The picturesque island nestled on the west coast of Canada boasts some of the mildest weather in Canada and offers a variety of landscapes – from lush rainforests to stunning coastal vistas. And now, with your Dream Lottery tickets, you can make beautiful Vancouver Island your new home.
Sooke: Coastal Living at its Best
Sooke, a charming community just a short drive from Victoria, is the perfect blend of natural beauty and small-town charm. Known as "Where the Rainforest Meets the Sea," Sooke captures the essence of Vancouver Island living. From the soothing waves of the ocean to the lush rainforests, outdoor exploration is a way of life here.
The furnished SookePoint Grand Prize home is perched on a cliffside above the Pacific Ocean, and comes with a 2023 Catalina 275 Sport Sailboat and VW electric vehicle to allow you to fully embrace the beauty of the area. From your front door you'll be able to join the Orcas salmon fishing, sail among the humpbacks, eagles, seals and sea lions, experience incredible underwater diving just below your deck, or hike in the adjoining 3,600-acre Wilderness Park. With its extensive network of well-marked trails, hiking in Sooke becomes an adventure through rainforests, beaches, and alpine zones.
Sooke is known for its shops showcasing its artisan scene and you'll find galleries, coffee shops and gift stores displaying the work of local artists. Throughout the summer you will find community celebrations almost every weekend, including a night market. The region is also known for its microbreweries offering unique blends of local beer. The urban amenities in proximity to nature make Sooke a hidden gem worth discovering.
Courtenay: Luxury Living Meets Adventure
Cross the island to discover the town of Courtenay, located in the heart of Comox Valley, a destination that caters to adventure enthusiasts and those seeking a relaxed pace. With unique boutiques, diverse dining options, and a range of recreational opportunities, Courtenay has something for everyone.
The Crown Isle Grand Prize package is perfect for those looking for a resort-style home with an adventure lifestyle. Set in the Crown Isle Resort & Golf Community, this luxury Greystone Estates home overlooks the 18-hole championship golf course. The year-round course, with 12 lakes and views of the Beaufort mountain range and Comox glacier, is an incredible place to golf for all levels of play. Greystone Estates is also conveniently located close to the Resort Clubhouse and Restaurants.
But it's not just about the fairways; Courtenay, the valley's urban hub, offers a blend of small-town charisma and modern conveniences. For shopping and dining, the city offers one-of-a-kind boutiques, restaurants, pubs, and cafes in the downtown core. The nearby Comox Valley Airport gives you easy access to the rest of the province, Canada and even overseas.
The region's recreational opportunities are limitless – from skiing, golfing and swimming, all within a day's reach. You can explore the year-round recreation destination of Mount Washington Alpine Resort, located adjacent to Strathcona Provincial Park, BC's oldest provincial park. And when you're craving a day at the beach, the ocean is just a short 10-minute drive away.
You can embrace the Island adventure lifestyle in Courtenay with the Crown Isle Grand Prize package. It includes everything you need, from a Mt. Washington Alpine Resort gift card and Crown Isle ProShop/Clubhouse credit to a VW electric SUV and specialized electric bikes.
Living the Island Dream
Whether you're drawn to the rugged coastline of Sooke or the picturesque charm of the Courtenay, these Vancouver Island Grand Prize homes offer a lifestyle that's truly unparalleled. From exploring the enchanting trails of East Sooke Park to enjoying world-class golfing at Crown Isle, every day on the Island promises new adventures and unforgettable experiences. Purchase your tickets now to win and choose your Grand Prize Vancouver Island package.
---
You Win, You Choose Your Favourite Lifestyle
Dream Lottery is offering 10 multi-million dollar Grand Prize options across beautiful BC. If the Island life isn't for you, there are other amazing home packages in sought-after locations with different lifestyles to suit your preferences.
You can find luxury urban and suburban homes in popular spots like Vancouver, South Surrey, North Vancouver, and Langley, all located in the bustling Lower Mainland. Or, if you're more drawn to the province's wine region, consider exploring homes in Lake Country and Kelowna in the scenic Okanagan. If none of these homes suit your fancy, you also have the option to take a tax-free cash prize of $2.3 million to create your own dream lifestyle.
Don't miss out – grab your life-changing tickets today and secure your future with Dream Lottery.