BC Children's Hospital Foundation Celebrates Grand Prize and 50/50 PLUS Winners 
BC Children's Hospital Foundation is celebrating the winners of the 2023 BC Children's Hospital Choices Lottery's biggest prizes.
The lucky winners of the multi-million dollar Grand Prize draw and 50/50 PLUS jackpot were awarded their prizes at the Foundation's office in Vancouver yesterday.
Grand Prize winner Darrin Steele, a bus driver from New Westminster, BC, received the life-changing phone call while working. Initially unable to answer as he was driving, the missed calls prompted him to pull over and return the call.
Darrin was ecstatic about the big win – but it didn't sink in until the morning when him and his husband arrived at the BC Children's Hospital Foundation offices to claim their prize.
He faced an exciting decision – a choice of nine amazing Grand Prize options, including multimillion-dollar home packages in Langley, South Surrey Vancouver, Kelowna, Vernon, Sooke, and Courtenay, or $2,300,000 cash.
​​Ultimately, Darrin chose the $2.3 million tax-free cash Grand Prize! He will be taking the summer off from work and plans to travel with his husband to the United Kingdom to visit family. ​​​ 
The 50/50 PLUS winner, Ben Lewis of Surrey, BC, won half of this year's incredible ​​$2,043,000 jackpot – a whopping $1,021,500!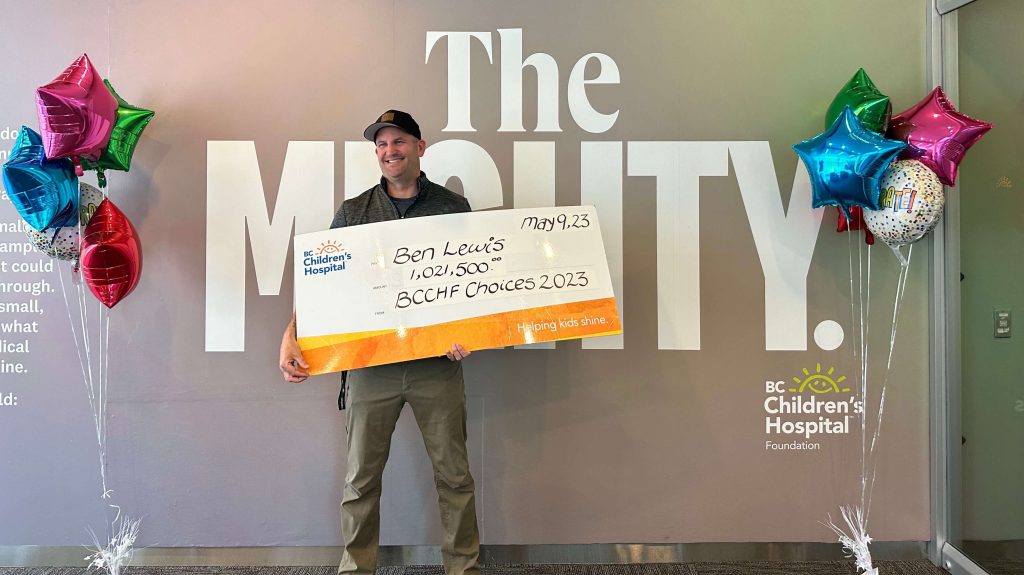 Congratulations to the winners – and thank you to everyone who bought a ticket in this year's BC Children's Hospital Choices Lottery. Your ticket purchase helps fuel new medical breakthroughs for kids and families across BC.
You might think your impact is small, but your support of BC Children's Hospital research initiatives could be just what we need to push the next medical advancement over the finish line.
​​All 2023 BC Children's Hospital Choices Lottery winners have been posted to ​bcchildren.com​. Watch the Grand Prize draw, which was held on Thursday, April 27, 2023, below.​​​